[ Products ] [ Services ] [ Hours&Location ] [ Contact Us ] [ Search ] [ Links ]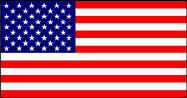 Rod End and Spherical Bearings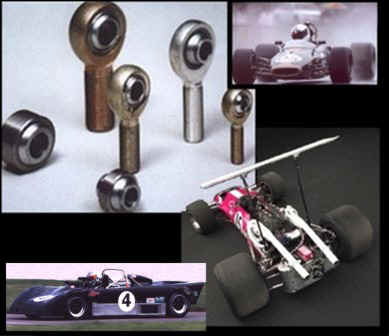 Utilizing their growing expertise in the aerospace market, Aurora Bearing Company have developed the following series of Rod End and Spherical bearings, for the serious needs of the racing community. The Performance Racing series of rod ends and spherical bearings use materials developed for military and aircraft applications, including the MIL-B-81820 qualified, ultra-high performance PTFE liner, which offers higher load carrying capacity as well as greatly increased dynamic wear characteristics over a wider temperature range. Superior engineering, advanced materials and precision manufacturing, all contribute to high strength suspension bearings, with reduced brake-away rotating torque, essential for modern racing suspensions.
Only the Performance Racing and the high strength Aerospace series of Aurora bearings, offer these characteristics standard .
Three-piece Precision Rod Ends
Performance Racing rod end and spherical bearing physical information is available from this link. Because of their superior quality, properties and dimensions, this bearing series remains our most popular replacement bearing of bearings supplied as original equipment on high performance race cars. And unlike many of the competition, these performance bearings truly accomplish what their numbers dictate (they last longer!). This means, because of their longer life, you have fewer replacements and thus lower long term costs.

If your current rod end and spherical bearings are not up to speed and you need help in selecting the proper replacements or you have a special size bearing, that you want to replace with a quality Aurora racing series bearing not shown in their catalogs? Then leap from here and contact us for help!
High-Strength If your requirements don't call for stainless steel but still must be a high performance male or female rod end, than our silver series is your answer. Go from here to see these rod end bearings.


Used in limited numbers, high misalignment male rod ends and spherical bearings are common to the racing industry. The unique demands that necessitate the use of this style of bearing, quality materials and meticulous manufacturing standards of the Aurora Bearing Co., are a critical requirement for such a design to successfully assist the racing engineer.
Aurora High-misalignment, rod end and spherical bearing information.
Contact: Averill Racing Stuff about other Aurora bearings, including those of unusual dimensions.
Let our experience help you make the correct decision on your bearing requirements.
Bearing terminology
Ultimate Radial Static Load
These loads are based upon the minimum mechanical properties of the design configuration in the stressed area. The ultimate radial static load capacity, called out in the rod end specification chart, is defined as a single cycle, unidirectional applied load, to cause ultimate failure. Operating loads should be based on the static load ratings, incorporating appropriate safety factors.
Axial Static Load
Axial static load capacity is the force that is applied through the bore of the ball. For Aurora three piece rod ends, maximum axial static load capacity is generally recommended as 10 percent of the ultimate radial static load capacity. It should be noted that on three piece units, factors such as race material, body material and dimensions may effect axial static load capacity.
Bearing Misalignment
A rod end or spherical bearing's ability to misalign is measured by the degree of angle (a) the ball can accommodate without interference. The angle of misalignment in a rod end is limited by ball width and head diameter, as in a clevis type mount. If added misalignment is required, this can be accomplished by utilizing spacers between the mount and ball face, or by using high misalignment rod ends.