[ Products ] [ Services ] [ Hours&Location ] [ Contact Us ] [ Search ] [ Links ]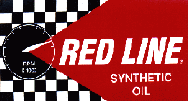 Red Line Synthetic Oils, derived from a racing background, can protect your daily street or tow vehicle with the same superior quality, polyester base stocks, that are protecting race vehicles around the world. With an exceptionally large assortment of oil weights to satisfy most any application, Red Line Synthetic Oil, out performs all petroleum-based oils and all other synthetics on the market today.
Engine Oils
Even though these Red Line Race Engine Oils are listed as straight grades, their low-temperature properties make them exceptional multi-grades. To reduce the chance of detonation, these race oils contain very few detergents and are not recommended for street use;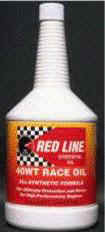 SAE 30 - (10W30) suitable in well balanced racing engines for sustained high-speed use, where low internal friction is desired.
SAE 40 - (15W40) for use where temperatures may be high and when a wide range in rpm's and speeds, will be encountered.
SAE 50 - (15W50) for use where extremely high temperatures may be encountered, when designed oiling systems are a known problem and when engine durability is the primary concern.
available in SAE 5, SAE 10, SAE 20, SAE 60 and SAE 70.
For those street vehicles that recommend multigrade oils, or raced as in a Stock type class, the following Red Line Synthetic Oils are available;
5W20 - Recommended for use on some of the newer vehicles.
5W30 - Provides the easiest start ability and lubricates fastest on startup.
10W30 - Reduces turbo lag and provides more power and economy in a properly functioning engine, while providing thicker bearing oil film than a petroleum 10W40.
10W40 - Best all-weather viscosity grade. Provides oil film thickness greater than a petroleum 20W50 in hot weather.
15W50 - The ultimate in high temperature protection. Recommended for hot running engines, especially air-cooled.

A combination of features in Red Line Gear Oils provides for greater operating efficiency. Improved slipperiness in gear tooth contact zone provides a significant friction reduction - improving power transfer and reducing temperatures. The relatively constant viscosity of Red Line Gear Oils compared to that of petroleum oil also provides a significant increase in efficiency.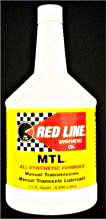 MTL - Manual Transmission/Transaxle lubricant. A 75W80W GL-4 gear oil designed for manual transmissions which require 75W or 80W GL-4 gear oils, motor oils of ATF. The higher synchronizer coefficient of friction allows faster shifting and is non-corrosive to synchros and bushings. Popular uses; many manual gearboxes such as Mazda RX-7
MT-90 - Manual Transaxle/Transmission lubricant. A 75W90 GL-4 oil designed for manual applications that require 75W90, or 90 GL-4 gear or motor oils. Uses the same chemistry as MTL, but is a 90Wt in order to satisfy certain manufacture recommendations. Popular uses; front wheel drive applications such as VW Golf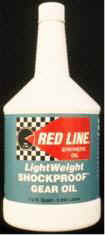 ShockProof Lightweight Gear Oil - a unique lubricant containing a suspension of solid microscopic particles as an extreme pressure agent. The viscosity characteristic allows the lubricant to resist throw off and provide a film thickness that can be rated as a 75W140 gear oil, yet has the lower internal fluid friction of a 30Wt motor oil. Popular uses; gearboxes and transaxles designed for racing, Formula Ford, Sports 2000, Spec Miata
ShockProof Heavyweight Gear Oil - Using the similar chemistry as ShockProof Lightweight, this Red Line product can be rated as a 75W250 gear oil, yet has the lower internal fluid friction of a 75W90. Temperature reductions between 25F and 75F are common in many forms of racing. Popular uses; GT-1,GT-2, Trans-Am and Formula Atlantic utilizing F-3 size transaxle.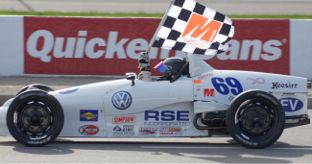 Lightweight Gear Oil - a 75W80W GL-5 oil designed to lubricate transmissions and transaxles which recommend 80W GL-5 gear oils. May be used to obtain maximum power transfer in racing differentials, which do not see high temperatures. Also has good synchros compatibility. Popular uses; Formula Vee.
75W90 Gear Oil - For both conventional and limited-slip differentials, 75W90 is preferred for most racing applications. It contains friction modifier, which is recommended for limited-slip units. Exceeds API GL-5. Popular uses; rear axle most production racers, GT-2 through GT-5 and many support vehicles.
75W90 NS Gear Oil - For conventional, open-differentials, this product contains NO friction modifier, and can be used in gearbox and transaxle applications, where a friction modifier would interfere with normal operation.. Exceeds API GL-5
75W140 Gear Oil - For those applications requiring a 75W140 weight gear oil with a friction modifier. API GL-5+ Hypoid Gear Oil. Recommended for API GL-5, GL-6, MT-1, MIL-L-2105E and SAE J2360.
Powersports Line
Motor Oil
Specifically created for high-revving four-stroke ATV's, Sportbikes and V-Twins
High levels of anti-wear chemistry like zinc and phosphorus
Less friction modifier for better wet-clutch operation
Superior film strength for protection and ring seal
Extended drain intervals over other brands
20W50 Motorcycle Oil
20W60HD Motorcycle Oil
Gear Oil
Shockproof® features microscopic solid medium to provide cushioning between gear teeth, while maintaining lower drag
Each gear oil product reduces the thinning effect from high temperature
V-Twin Transmission Oil for all H-D® trans and aftermarket versions like Baker and S&S, etc.
Provides consistent shifting and wet-clutch operation
80W version available for two stroke motocross, shifter kart and CRF trans
V-Twin Transmission Oil W/ShockProof
V-Twin Primary Case Oil
These, along with an assortment of automatic transmission fluids, are just some of the Red Line Oil products that we supply.
CV-2 Grease with Moly
Withstands extreme temperatures and pressure in wheel bearings, U-joints and high-angle CV Joints.
Excellent high-temp stability, extreme-pressure protection, and water resistance.
Safe operating temps from -100 to +500F
Strong resistance to oxidation and corrosion, low evaporation and oil separation, with a minimum effect on rubber seals
Part #1H0946, 14oz. Tube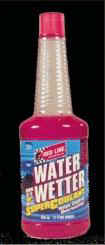 Supercool with Waterwetter - Waterwetter is a unique wetting agent for cooling systems which reduces coolant temperatures by as much as 30F. This liquid product can be used to provide rust and corrosion protection in plain water for racing engines, which provides much better heat transfer properties than glycol-based antifreeze. Or it can be added to new or used antifreeze to improve the heat transfer of ethylene and propylene glycol systems.
Part #5H1981, 12oz. Plastic Bottle
Top of Page