Hold Curser Over Button For Contents
















[ Products ] [ Services ] [ Hours&Location ] [ Contact Us ] [ Search ] [ Links ]

Panasport wheels are available in an extensive range of sizes, offsets and applications. There are single and three-piece Panasport wheels, for challenging North America's racing circuits and one piece racing quality wheels made for cruising the streets and highways. With sizes from 13"X5" through 16"X8", and over 25 years of North American experience (30+ years manufacturing), Panasport's high quality and finish, is what other wheel companies strive for.
Panasport wheels are available in a variety of styles, sizes and applications, while all Panasport alloy wheels have the following distinctive qualities.
New, virgin aluminum alloy materials used throughout.
Hub centric machining for every application
Steel, tapered-face inserted lug holes for secure fixing and self-centering attachment
Heat treated for high strength and durability
Every wheel is product control tested before leaving the factory
The proper balance of designed material location providing a light weight wheel with intense strength.
Precise fit for every application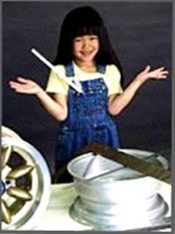 Measurements
My little helper is going to order a set of Panasport light alloy wheels, for a new race car. She knows that countless race cars have distinctly different brake components, bolt patterns, and bearing hubs. To order the correct racing wheel, proper sizing information is imperative. So, in order for us to help her, we have a Measurement Chart she needs to fill in with all the dimensions asked for.
Those vehicles of the most common of applications, this information may not be needed.
Measurement Chart

For viewing different Panasport wheels and their style codes, we have provided the following pages. Street Style, is for highway use (supplied with center caps), while Racing Style is for racing only and should never be used for the street. Often, there may be two styles or versions, that will generally look similar with only slight differences in their appearance. Racing wheels, with their purpose manufactured properties, should never be used for anything other than what they were designed for, racing .