[ Products ] [ Services ] [ Hours&Location ] [ Contact Us ] [ Search ] [ Links ]

Various Fasteners


AN Airframe Bolts

Aerospace hardware, primarily AN (Air Force/Navy), MS (Military Specification) and NAS (National Aerospace Standard) and used throughout the racing industry, have been around for over 30 years. This basic group of fasteners have remained unchanged because of their rigid quality control standards and they do the job!

The AN hex head, fine thread, aircraft-spec bolts, have a minimum tensile strength of 125,000 psi, and a minimum shear strength of 75,000 psi. Superior to "Grade 8" tension bolts, for almost all shear load race car applications.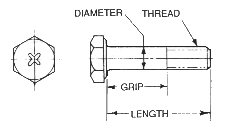 Click here for bolt chart
Proper use of these AN bolts requires the use of washers.
Elastic self locking nuts are available in both a standard height and a thin versions (approximately 25 - 30% thinner)

Jam nuts, used for locking the threaded portion a rod-end bearing, in both right and left handed , SAE fine threads. Starting at 1/4"-28 and running through 3/4"-16. Note, with their narrow width and fewer threads to torque, they should be replaced often.

Jet nuts are a reduced hexagon, self locking, reduced height nut, used in reduced clearance or high heat applications. Available from -3 (10-32UNF) to -8 (1/2-20UNF) sizes, plus various metric sizes. The method of locking is by an elliptically deformed head, and repeated use will diminish it's locking capability while being harsh on threads. If you have an application that requires repeated removal of a fastener, such as on a gearbox cover, the standard AN self locking nut would be a better alternative.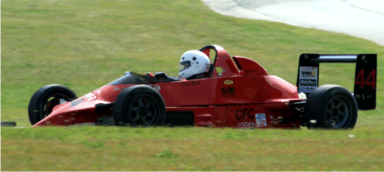 Aluminum Aero washers provide a larger clamping and the clean airflow when using button head socket cap fasteners, as in wing end plates.
One inch outside diameter.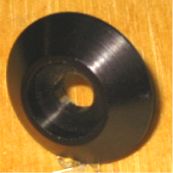 1/4" ID Part# 3Z1569
3/16" ID Part# 3Z2721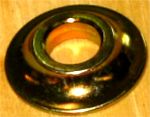 Steel, plated, Captive (safety) Washers
(sold in pairs)
5/16"ID, 7/8"OD, .170" thick Part #1Z2531
3/8" ID, 1" OD, .200" thick, Part #1Z2532
7/16" ID, 1.125"OD, .220" thick, Part #1Z2533
1/2"ID, 1.25"OD, .220" thick, Part #1Z2641

Thomas & Betts Ty-raps
This exclusive locking device is your assurance of reliability. The stainless locking device is permanently embedded in the nylon head. The tie is infinitely adjustable to any diameter within its own range. All the self-locking ties exceed the minimum pullout strength requirements specified in MIL-S-23190. One of the most used fasteners in the world !
Stocked in black, UV and weather resistant MX series. ( ) package size
TY23MX - 1/16" to 5/8" bundle range, .094" width, 3.62" length (100) #1U2144
TY24MX - 1/16" to 1-1/4" bundle range, .140" width, 5.50" length (100) #1U0864
TY25MX - 1/16" to 1-3/4" bundle range, .184" width, 7.31" length (100) #1U2145
TY26MX - 1/16" to 3.0" bundle range, .140" width, 11.08" length (100) #1U0877
TY27MX - 3/16" to 3-1/2" bundle range, .301" width, 13.38" length (25) #1U2146
TY28MX - 1/16" to 4.0" bundle range, .184" width, 14.19" length (50) #1U2147

T&B Assortment package (100-TY23MX, 100-TY25MX, 15-TY27MX, 50-TY28MX) part #1U2266
Frequent body panels removal, requires a quick release fastening method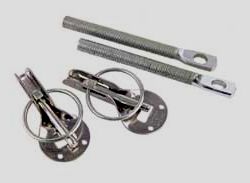 Captive Hood Pins. Sold in pairs, these heavy-duty, captive latch, stainless steel hood pin assemblies, never have you looking for the clevis pin. The 1/4" steel, spring loaded clevis pin always stays attached to the stainless steel retainer plate, which is riveted or bolted to the hood surface. The 7/16" diameter pin is 4-1/2" long.
part #7J1215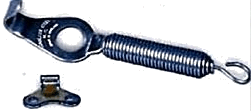 Terry Body and Bonnet spring and Hook. (sold in pairs)
These well proven fasteners are one of the best ways to hold body panelss to any racecar. The spring allows a panel to be nudged, and then pulled back into place, lessening possible damage.
part #7J1055
This steel slide latch comprises of a sliding bar, attached to a housing / mounting plate, which would be riveted to a panel. This assembly engages onto a bush which is fastened (3/16") to a support member.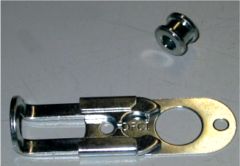 Zinc Plated Latch #7J1650
Zinc Plated Bush 11/64" id. #7J0249

These natural rubber, double ends male/male, vibration mounts are designed to absorb the transmission of vibration between your vehicle and whatever piece of equipment that it is mounted to. 50 durometer for use up to 1500 F. Also used as a power takeoff point, when wiring gauge and switch panels.

| | | | | | |
| --- | --- | --- | --- | --- | --- |
| Part # | Thread | A | B | C | D |
| 1U2541 | 8-32 inch. | .625" | .50" | .50" | .50" |
| 1U0288 | 10-32 inch. | .56" | .375" | .50" | .375" |
| 1U0554 | 1/4-20 inch. | 1.0" | .625" | .75" | .625" |
Call for metric, other thread sizes or styles.
Safety Wire. Stainless steel annealed type 302, used to secure bolts or hardware subject to vibration. Available in 1 lb. dispenser can. MS20995.
Wire diameters of, .025", .032".
Safety Wire, .025", Part #9U1837
Safety Wire, .032", Part #9U1069
Top of Page