Fire safety must start next to your skin.
Sport wear is not fire safe.
Lady Eagle should be the first and only thing you put on !
Supportive and protective women undergarments
All driver's suits and underwear come with SFI certification labels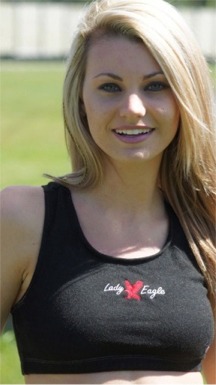 Pro-Tek Bra
First designed in 1999.
Our latest version was created by feed-back from our customers.
More comfortable to wear under H&N devices.
This soft, supportive design using knit CarbonX material, is far superior to standard undergarments and those using superceded materials, in comfort, flame protection and in breath-ability.
Standard size start at $85.00(see chart below). SFI rated
Custom sizes available.
If more support is needed, we also have the Lady Eagle Pro-Tek X-Bra. This design offers more support for those who need it.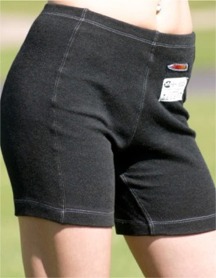 Pro-Tek Shorts
Also know as "Bicycle Pants", these very comfortable shorts have the same material properties as our Pro-Tek Bra and Tank-Top. And, much safer to wear under your outer uniform than the garments you wear on the street.
Flame-retardant fabric CarbonX, FR trim optional, lined,
Standard Lady Eagle or custom sizes (see chart below)
SFI rated
price's start at $105.00
Why not bikini style shorts?
The reason for the Pro-Tek design:
Racing Safety-Harness loads, (across/around hips) is not desired nor comfortable on a waist band for a drop waist design. While the longer legs add an extra layer of soft material between you and chafing from anti-submarine straps of a 6-7 point belt system.
(not shown) Pro-Tek Tank Top with built in bra
This is an ideal combination for, not only more protection of your skin under a uniform, but can be less "offensive" to some track officials who don't like it when women racers want to wrap the tops of their uniforms around their waist after a race, like the guys do. SFI rated
Flame-retardant fabric CarbonX,
Lined, L-E standard sizes start at $125.00.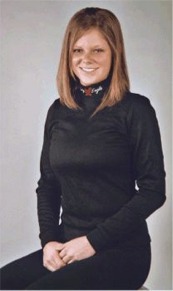 Mock Turtle neck w/long sleeves, CarbonX or Nomex
standard Lady Eagle sizes, SFI rated Nomex $90.00, Carbon-X $110.00

Long pants "Long James" CarbonX bottoms w/cuffs, or Nomex
standard Lady Eagle sizes, SFI rated, Nomex $90.00, Carbon-X $110.00


Socks -Sewn on the leggings,
For CarbonX based pants add $50.00
For Nomex based pants add $30.00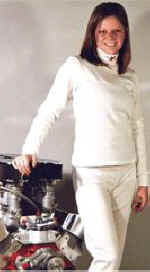 Our Women Safety Underwear, is made and designed to fit a women size and shape.
And because it's from Lady Eagle's No Fly Zone clothing series, you can trust it to provide you the comfort of your daily clothing, with the safety of today's modern fire resistant materials. No mater what the age of the participant, Lady Eagle Safetywear will safely provide comfortable fire protection!
If you're not wearing Lady Eagle, you are at risk!

CarbonX head sock for women (overall size is smaller than male version), single/slit eye opening, one size. Long neck to tuck and stay inside uniform. SFI rated
$60.00 part# 0W2637
CarbonX tube socks, $50.00
Soft knit, feels great, breath ability
Up to woman's shoe size 9, # 0W2549
Woman's shoe size 9-1/2 and up, #0W2592
Many items are available in standard sizes using Carbon-X or Nomex. If you have special fit needs, use our custom charts and have it built, just for you!
Standard Sizes
After years of working around the conflicting sizes from various worldwide manufactures of women's apparel, we were forced to set-up our own "standard size" chart. This simplifies size choices and enhances a first time fit.
Standard Size Chart
Lady Eagle size
LE-3
XS
LE-4
S
LE-5
M
LE-6
L
LE-7
XL
Bust
34-35
36-37
38-39
40-42
43-45
Under Bust
28-29
30-31
32-33
34-35
36-37
Bra Size
32 A/B
34 B/C
36 B/C
38 C/D
40 C/D
Waist
22-26
27-28
29-30
31-33
34-36
Hip
35-36
37-38
39-40
41-43
44-46
Shoulder (seam to seam)
15 1/2
16
16 1/2
17
17 1/2
Inseam
32
32
32
32
32
Sleeve
31
31 1/2
32
32 1/2
33
Total Rise
56
57-1/4
58-1/2
60-1/4
62
For custom underwear sizes use our Lady Eagle uniform size chart
and the following dimensions.
B, D, F, G, I, K, P, R and U
Custom Uniforms from Lady Eagle Racewear!
Measure and Design charts.