Hold Curser Over Button For Contents
















Custom size and Design Charts
for
Design 500 and Lady Eagle
When you are ready to order your new racing uniform, we will need the information from the measuring chart to properly build it. Delivery times vary according to the time of year and it's proximity to certain racing events.
When choosing a Design 500 or Lady Eagle made uniform, your available options increase, between Sateen, Woven or Knit Nomex®, and/or the inclusion of Carbon-X as a inner material.
Standard Nomex® Colors Design 500 and Lady Eagle are
* Natural, White, Black, Royal Blue, Navy Blue, Carbon Fiber, Silver Grey, Charcoal Grey, Purple, Red, Light and Dark Green, Brown, Burgundy, Teal, Light and Dark Yellow, Orange*
* New colors available periodically
* Not all colors are in stock at all times.
Custom Size and Design Forms
The measuring process is fairly simple. Wearing casual clothes, have someone measure you using a 60" cloth measuring tape.
We recommend that you DO NOT GO TO A TAILOR.
Tailors are fine when they're measuring for a coat and pants, but they often use different reference points that cause problems when making a one-piece driver's suit.
If you have any questions about the measuring process, just call us - we can talk you through the measuring form.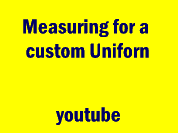 open this adobe file
for custom male measurements

Design 500 Racewear Design File
open this adobe file for design 500
custom design and embroidery page

open this adobe file
for custom female measurements

Lady Eagle Design File
open this adobe file for lady eagle
custom design and embroidery page

* Measurement help *
Take measurements over normal fitting attire, not bulky or extremely loose fitting.
Once measurements have started, do not re-adjust.
Tie a string around waist to mark location (mid-way between lowest rib and pelvis).
Take all measurements, do not guess from known clothing size (collar, inseam).
When asked for a total length a set of measurements (R+S+T, etc.), measure, do not just add the numbers.
When measuring to the ankle, use the lowest point on the bone.
The same goes for the collar to the shoulder, outside of bone.
Do not add extra for anything, request a loose fit instead.
If you have a known unusual fitting issue, let us know.
If in doubt, measure the whole chart over again, see if it matches.
If you want a uniform with a drop waist (belt location), tell us and we can make the adjustments.
* *
When adding stripes, banners and other types of designs, included the width of each, and location in relationship to other parts of the suit (i.e. 4" above waist, 2" down from collar, etc.).
Design 500 and Lady Eagle options
Arm Restraints built in, using Kevlar in suit, above or below elbow, pair with 2"straps
Woven, Sateen or Knit Nomex® or Carbon-X®
Upper and Lower uniform 1/2's with different types of Nomex®
Boot Cuffs
Boot Cuffs with Hoof, extra layer to cover your driving boot (popular with Sprint Cars)
1800, 2700or 3600 Nomex® knit stretch panels at shoulders
Extra layer of Nomex® or Carbon-X® on bottom half of suit (popular in sprint car racing)
Knit collar of soft knit Nomex®
Epaulets in standard, euro-style (3 point) or our design for use with HANS
Knit panel across lower back
Custom Embroidery, applied before suit is built, thus only through the outer layer
Only FR materials are used, even on piping
Vintage look designs of the 50's, 60's