Hold Curser Over Button For Contents
















[ Up ] [ Products ] [ Services ] [ Hours&Location ] [ Contact Us ] [ Search ] [ Links ]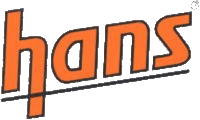 The worldwide leader in head and neck technology!
The HANS Device is the #1 head and neck restraint used worldwide

HANS Devices are designed to work with any SNELL certified helmet

A HANS Device is less restrictive and more comfortable than a strap style device
Averill Racing Stuff
is your
Factory Trained HANS Dealer
Model 10 - extreme upright seating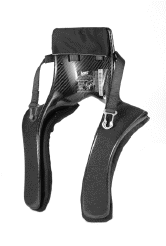 Extreme upright seating applications
Fits many Sprint Cars and Midgets with lightweight
or thin-chested drivers
Available in Professional series, medium only, HANS adjustable (Med and Lg)
Note: Fits many people weighing under 75 lbs. in an upright seat
Model 20 - upright seating
Available in 4 sizes, Super Small, Small, Medium and Large
For upright seating positions
SFI Certification
Sport II (shown) Med and Large only, HANS Adjustable (M & L), Professional models (SS, S,) & Pro Ultra (M & L)
Fits all sedans including NASCAR, Busch,
Modified, Midget, Quarter Midget,
Bandalero, Drag, and similar.
All Sportscars including,
Porsche, BMW, Ferrari, Viper
Corvette, Miata, Mustang, etc
All Panoz Racing Series cars
Most marine applications
Standard padding, black
Our most popular device angle
Note: Drivers over 200 lbs. may find a Model 30 more comfortable in vehicles listed above

Sizes
The width of the HANS Device collar
is sized to fit your neck or shirt collar size

S-Small under 12" (SS)
Small 12" to 15" (S)
Medium 15" to 16.5" (M)
Large 17" to 20.5" (L)

Model 30 - semi reclined seat
Available in sizes, Medium or Large
SFI certification
HANS Adjustable, Professional models
For semi-reclined seating applications
Fits many formula cars
Formula Mazda, Infiniti Pro, IRL
Barber Dodge, C/D Sports Racer
Standard padding, Black
Optional padding colors, Red, Blue, Orange, Yellow
Model 40 - reclined seating (rare applications)
Not Shown
For fully reclined seating only
Available in size Medium & Large
Available in HANS Adjustable (Medium and Large) & Professional version (Medium only)
Standard padding, Black
Note, most who buy a Model 40 find that they are really a 30
HANS Devices were designed and developed to be used with any SFI or FIA approved racing harness with 3" (75mm) shoulder straps. Other harnesses, including "double belts" and 2" (50mm) shoulder straps may also work.
There is no performance difference between the models.......................................................
Accessories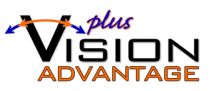 Allows increased range of head motion for unlimited side to side vision
Can be retrofit to all older HANS Device
Kit for converting one HANS Device to a sliding tether system contains, tether carriers,
nutwashers, tether and full instructions
Medium 18 inch length fits all HANS Device
Now as standard.
Quick Click Vision+
When changing from a fixed or "slider" vision+ system
to a quick disconnect connection, purchase this kit
part # 0X2812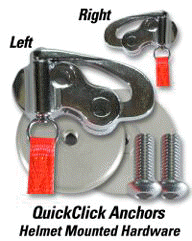 Spare/Replacement Quick Click anchors for SA and SAH helmets.
part # 0X1400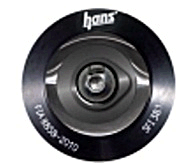 Post Anchors (sport model shown)
New design posts for both SA and SAH (FIA8860-2010,FIA8858) helmets, Sport II, HANS Adjustable or Pro model (aluminum base)

buy an extra pair when fitting a new helmet

Sport SA part # 0X2336

Sport SAH part # 0X2581

Pro SAH part # 0X2906
Standard replacement padding (not shown)
Available in Black, Blue, Red or Yellow

Gel Padding (not shown)
Replacement padding, gel material in a pair of FR socks for added comfort.
Black part # 0X2584
also available in Blue, Red or Yellow
.

HANS is a registered trademark of Hubbard/Downing Inc. d/b/a HANS Performance Products and is used by permission. Disclaimer: This article is sold without warranty expressed or implied. No warranty or representation is made as to this product's ability to protect the user from any injury or death. The user assumes that risk. The effectiveness, warranty and longevity of this equipment are directly related to the manner in which it is INSTALLED, USED, and/or MAINTAINED. THE USER ASSUMES THE RISK. No warranty or representation is made as to its ability to protect against serious injury or death, which might result from circumstances beyond the control of HANS Performance Products.
Bead Seat
Bead seat mix, slow cure resin bag