Hold Curser Over Button For Contents
















Race Seat Kit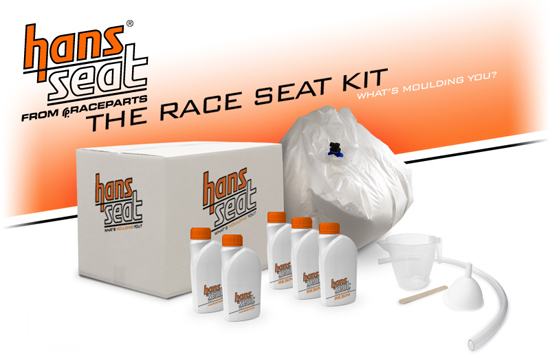 HANS Seat is a simple, clean and professional way of fitting any driver into their car. We use a unique mix of slow cure resins and a vacuum to help a driver find the best seating position for performance, safety and comfort. The sealed casting bag and valve method ensures a trouble-free seat making experience. SFI approved beads.
Kit Contents
Bag with on/off valve with filter
Liters of Impact absorption bead mix, as listed per kit
Resin (color dye added) and Hardener
Funnel, Mixing container, stick and Hose for vacuum
Instructions
25 Liter Seat Kit #9U2725
Bag Size 1100 X 750mm, 6.6 Gallons
Suits - For big drivers in a tight cockpit or seat shell
Designed to fit torso and legs
30 Liter Seat Kit #9U1958
Bag Size 1100X1500mm, 7.9 Gallons
Suits - Tight cockpits or a liner/insert inside a seat shell or extractable seat
Applications; F1, GP2, Touring Car, F3 & Historic cockpits w/ bigger driver, Formula Ford
40 Liter Seat Kit #9U2184
Bag Size 1100X1500mm, 10.5 Gallons
Suits - As above but with smaller driver
50 Liter Seat Kit #9U0905
Bag Size 1100X1500mm, 13.2 Gallons
Suits - The most popular single seater applications as the primary seat or for smaller drivers (and we mean small) in seat shells for Touring Cars & some extractable seats
70 Liter Seat Kit #9U0852
Bag Size 1100X1500mm, 18.5 Gallons
Suits - Like the 50 Liter kit, to be used as a stand alone seat in an open cockpit such as, Sports 2000, Caterham, Radical, IRL, Indy Lights, Formula Nippon.
HANS is a registered trademark of Hubbard/Downing Inc. d/b/a HANS Performance Products and is used by permission. Disclaimer: This article is sold without warranty expressed or implied. No warranty or representation is made as to this product's ability to protect the user from any injury or death. The user assumes that risk. The effectiveness, warranty and longevity of this equipment are directly related to the manner in which it is INSTALLED, USED, and/or MAINTAINED. THE USER ASSUMES THE RISK. No warranty or representation is made as to its ability to protect against serious injury or death, which might result from circumstances beyond the control of Raceparts Ltd and/or HANS Performance Products.