[ Up ] [ Products ] [ Services ] [ Hours&Location ] [ Contact Us ] [ Search ] [ Links ]
Fit and other Instructions
HANS SIZE - comfort is the deciding factor for those between sizes.
Exceptions - some drivers with highly developed muscles may require one size larger than their neck size would otherwise indicate.
Device Angle
The angle of the driver's seat back must match the angle of the HANS Device. Examples below indicate the correct fitment for each angle of device.

Model 10 - Extreme Upright
Rare Application fits some Sprint Cars, Midgets.
EXCEPTION: May fit drivers with a thin chest, who would otherwise fit a Model 20.
Model 20 - Upright
Fits all Sedans, sports cars, Midgets, late models, Modifieds, etc., such as NASCAR, Corvette, Porsche, Viper, Miata, Honda and similar.
Model 30 - Semi Reclined
Fits many single seat vehicles, such as Formula Ford, Formula Mazda, F2000, SR-1, SR-2 Spec Racer Ford and similar.
EXCEPTION: May fit drivers with a barrel chest, who would otherwise use a Model 20.
Model 40 - Fully Reclined
Rare application, fit some vintage Formula cars and Formula 1 vehicles. *Measure seat back before ordering to ensure correct fit.
Basic Concept
In a crash without a HANS®, the shoulder harness and seat, restrain the driver's torso, but only the neck restrains the head and helmet.
The HANS® device reduces the whipping action of the head and keeps the driver's head from being pulled away from their upper body. With a HANS®, forces stretching the neck in a frontal collision are reduced by 80%. In a frontal crash, the tethers restrain the head with forces that directly counteract the head's forward movement while the torso and HANS® are restrained by the shoulder harness. By restraining the head to move with the torso in a crash, the head motions and forces in the neck are dramatically reduced. In a crash test without a HANS®, head accelerations, neck loads are largest due to swinging motion of the head.
Note: Many chassis do not feature properly located shoulder harness mount locations to begin with. These should be corrected for proper harness performance, regardless of whether or not a HANS® device is being used.
SFI Specification 38.1
Head and Neck Restraint Systems
The SFI Foundation, has established Specification 38.1 "Head and Neck Restraint Systems", as a partner to their other standards for specialty/performance automotive and racing equipment.
Conformance with this new specification, requires demonstrations that equipment, like the HANS® Device, meets or exceeds performance standards established by experts in driver safety.
Devices are tested both when a manufacture, like HANS® Performance Products, enters the program, and on a periodic basis thereafter. All testing is conducted by an independent laboratory, is authenticated by a state registered professional Engineer, and is observed by an SFI official. In a test, devices are fitted to a crash dummy in a dynamic crash sled configured to replicate a racecar environment.
The crash dummy is restrained by a Nylon SFI Specification, 16.1, six-point driver restraint system provided by SFI. A minimum of two frontal crash tests and one 30° right frontal crash test are conducted. Each test represents a 43.5mph (70 kph) crash. For a device to "pass" the first time, the dummy's neck tension and compression, must be less than 720 lbf (3,200 N) is all tests. Any result over 900 lbf (4,000 N) is considered an outright failure. Once SFI's performance and other requirements are met, a manufacturer may advertise, promote and offer a Head and Heck Restraint System for sale, with the representation that their product meets SFI Specification 38.1.

Peer Group Acclaim
HANS® success has not come overnight. Downing and Hubbard have spent more than 25 years on the development of their HANS® technology as a commitment to help keep high-performance motorized sports participants from injury and save lives. Their success and commitment has been recognized by many professional and sporting organizations worldwide.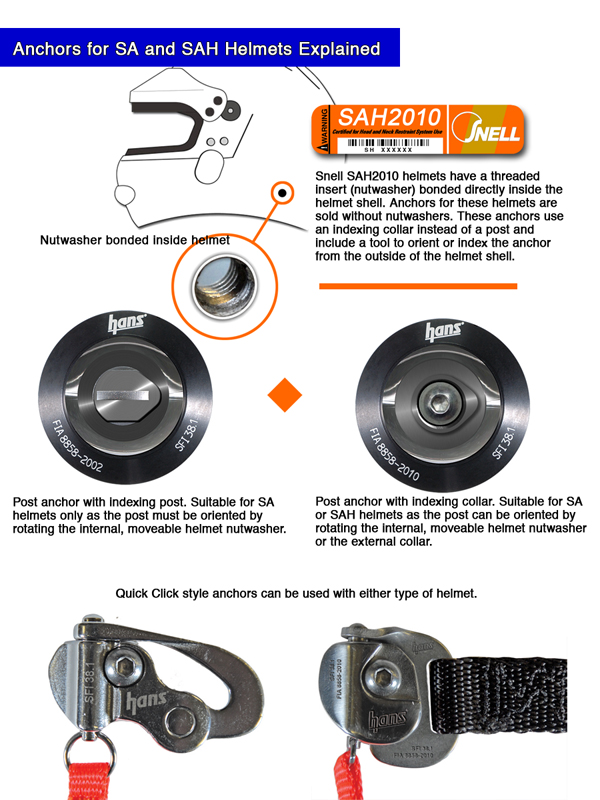 Stop by our Michigan location for personal assistance with your HANS Device.