Hold Curser Over Button For Contents
















[ Products ] [ Services ] [ Hours&Location ] [ Contact Us ] [ Search ] [ Links ]
Uniforms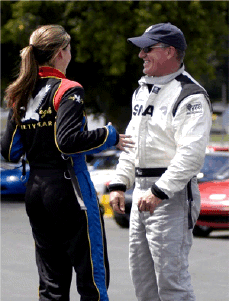 When required by race sanctioning body rules,
all of our race uniforms are SFI rated.
We understand that not everyone has the same thoughts about race uniforms, nor the same needs. For that reason we have separated the different manufactures we participate with. Economy uniforms come in standard size, on primarily male based sizes. Motor Racing of most types is a male dominated industry, thus the supply of female safety equipment is not as prevalent. But that's something we take care of. Read On!
If your needs are very basic, colors and material choices not being that specific and you do not have any fit issues, than an economy uniform may be what you want. In some cases, we can have them altered/adjusted to better fit. If you are looking for custom sizes, designs, materials and more options, then you will find our Premium section for you.
Female users will find a better fit and style from the manufacture in our Premium section. Link to the women manufacture from there.
SFI rating
Our economy uniforms are SFI rated, our most requested is SFI 3.2A/5. Some of the labels we support are Racequip and Pyrotect. The fire resistance of the materials is similar to that of our premium manufactures, with similar ratings and when used with our racing underwear, will provide you with secure fire safety. These manufactures have "standard" sizes available, in a minimum of designs and colors. We strongly recommend that you have it custom cut or adjusted for your size. Some cases this will be a total cut and sew operation, for other's, just a few alterations. For most, this will provide a better fit than one from "off the rack", for just a little more cost.
Yes we can supply you a standard size uniform, but we see very few "standard" size racers.
TPP rating
Thermal Protection Performance (TPP) of a garment, is the measurement of the length of time a person wearing the garment can be exposed to a heat source before incurring a second degree burn. The higher the TPP, the more protection. This not only varies by the type of material used, but way that material was made. A knit Nomex will inherently have a higher TPP than a woven Nomex, because it traps air, which is a poor conductor of heat. This is why wear fire resistant underwear under your uniform is so important. It creates another "air barrier" between you and the other uniform, in case of fire.. Carbon-X is higher yet.
Starting out with a proper fitting uniform, inclusive of all the safety requirements needed, is a long term investment. No need to look at your "first" uniform as only a short term purchase. These uniforms can always be used for many seasons, on "test days", qualifying an open car in the rain, or times other than for a Feature race when you want to look your best. This will also reduce wear on your "best" uniform.
Because we prefer to supply race uniforms which are at the very minimum, tailored to fit, we do not inventory uniforms. Different racing classes require additional safety additions (e.g. arm restraints), so guessing the different needs, colors and sizes for our potential customers would be difficult at best.
We would prefer to supply you with what you need.
SFI
Once a manufacture has committed to participating in an SFI program, it must comply with the specifications in all respects. The manufacturer provides the racer with a product that is in compliance with the specifications enforced by the sanctioning body. When adopted as part of the rules of a race sanctioning body, enforcement is entirely up to that organization.