[ Up ] [ Products ] [ Services ] [ Hours&Location ] [ Contact Us ] [ Search ] [ Links ]
Earl's performance products offers more variations than anybody else. In fact, we can't list all their different hose end and adapters combinations, so contact us with your requirements, hose sizes, attachment needs and let us help you set it up.

Earl's Swivel-Seal tm Hose Ends
Simply the Best!
Swivel-Seal offers all of the following features; Nipple and Cutter design demanded by the aircraft industry for use with Stainless Braided rubber lined hoses. Adjustability after assembly. The widest selection of male and female threaded configurations available today.
Swivel-Seal's patented design allows for the largest possible inside diameter for maximum flow, with more variety of types and configurations per size than any other manufacture. This nipple and cutter style hose end, was originally designed to eliminate the problem of hose assembly failures, when using stainless braided covered synthetic rubber liner hose and conventional single nipple hose ends.
These fittings are available in straight, 45° ,90° ,120° ,150° ,and 180 degree versions ,plus many specials for use on oil pumps and carburetors. Sizes -6 through -16.
Swivel-Seal hose ends may be used with Perform-O-Flex, Auto-Flex or Pro-Lite hose.
| | |
| --- | --- |
| Size | Typical Application |
| 4 | Small Oil & Fuel Lines, Gauges & Vacuum Lines |
| 6 | Carburetor, Fuel & Oil Lines |
| 8 | Water, Fuel & Oil Lines |
| 10 | Oil & Fuel Lines, Heater Hoses |
| 12 | Water, Fuel & Oil Lines, Heater Hoses |
| 16 | Water, Dry Sump & Fuel Lines, Heater Hoses |
| 20 | Fuel, Water & Oil Return Lines |
| 24 | Water & Radiator Lines |
Earl's Auto-Fit tm Hose Ends
Earl's Auto-Fit design is a breakthrough in design of single nipple hose ends. They provide the reliability and appearance of Swivel-Seal, but are easier to assemble and less expensive.
With the conventional single nipple hose end design, the nipple actually threads into the hose and is retained by the socket. The thread forms a part of the seal and a possible spiral leak path.
The Auto-Fit nipple is barbed rather than threaded. In assembly, the nipple is pushed into, rather than threaded into the hose. The hose is compressed between the nipple and the socket, sealing at the barbs. Hose retention is positive (the same as Swivel-Seal) and there is no spiral path for possible leaks.
Earl's Auto-Fit hose ends are available in straight, 45°, 90°, 120°, 150°, and 180 degree bent tube configurations. Sizes -4 through -24.
Auto-Fit hose ends are designed to be used with Perform-O-Flex or Auto-Flex hose. They cannot be used with non-stainless braided protected hose and are not recommended for use with other manufactures hose.
Earl's Super Stock Hose Ends
Super Stock push-on hose ends are designed to be an attractive lightweight replacement for steel or brass push lock type hose ends. Anodized in the familiar red and blue, they are available in common AN 37o flare configurations. Used with Earl's Super Stock synthetic rubber reinforced hose, they are available in straight, 45°, 90°, 120°, 150°, and 180 degree bent tube configurations. Sizes -4 through -12.
Brake and Clutch Systems
Earl's Speed Seal tm Reusable Hose Ends
To reduce brake line swell under extreme pressure and consequent loss of pedal travel and firmness, stainless braid protected hose of extruded Teflon (Speed-Flex) is used throughout the racing industry as flexible brake and clutch hoses. Earl's proven record of reliability and unmatched range of configurations, has made Speed-Seal reusable hose ends the choice of professional race teams worldwide.
As is the case with other Earl's products, there is a large number of Speed-Seal hardware available to solve your plumbing needs, along with fitting angles of straight, 45°, 90°, 120° and 180 degrees. It is recommended that when building a braking system, the use of fittings and components only made of steel, will best handle the severe, long term vibrations associated with those systems. We also do not recommend the use of tube type fittings, out at the calipers.
Since brake system hose ends are often subject to fatigue from extreme vibration, Earl's adjustable Speed-Seal -3 forged hose ends feature an 80% greater wall thickness than those of the competition.
For those British built vehicles, we can also supply brake and clutch fittings in BSP, straight, 45 and 90 degree applications.
Contact us for your racing plumbing needs!

.

Dowdy Seals, a standard sealing item with UK racecar plumbing (BSP British Standard Pipe), similar in concept to a Stat-O-Seal, but considerably smaller in diameter, while thicker in cross section. To be used with straight threaded adapter fittings, when sealing at a port which has no relief for an "O"ring.

Earl's Part
Number
178103
178104
178105
178106
178107
178108
178109
178110
178112
178114
178117
I.D.
3/16"
1/4"
5/16"
3/8"
7/16"
1/2"
9/16"
5/8"
3/4"
7/8"
1-1/16"
Fitting Size
--
--
--
-3
-4
-5
-6
3/8BSP
-8AN, 1/2BSP
-10AN,
5/8BSP
-12AN,
3/4BSP
**Earl's # 178103 - #178109, sold in pairs only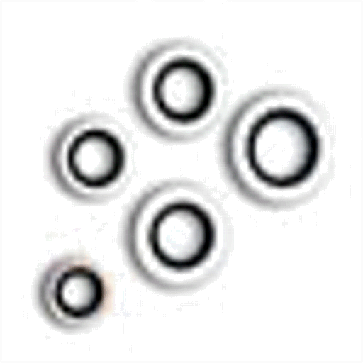 A Stat-O-Seal, consists of a synthetic rubber "O" ring mechanically locked to the I.D. of an aluminum washer. When tightened, the "O" ring is compressed, forcing the sealing surfaces around the bolt shank. This will form a positive seal over a temperature range of -85o to +450o F
Earl's
Part
Number
178003
178004
178005
178006
178007
178008
178009
178010
178012
178014
I.D.
3/16"
1/4"
5/16"
3/8"
7/16"
1/2"
9/16"
5/8"
3/4"
7/8"
Fits AN
--
--
--
-3
-4
-5
-6
--
-8
-10
##Sold in pairs only
Earl's Flame Guard Insulation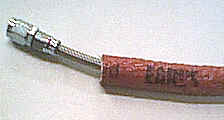 Also known as fire sleeve, Flame Guard is often needed to insulate fuel hoses in an engine compartment, brake or clutch lines from headers plus oil hoses and control cables from extreme heat. This non-asbestos flame guard has an operating temperature range of -65oF to 500oF, with occasional heat splashes to 2000oF. This product is not designed to wrap headers.
Color; Red or Silver
The following chart will assist you in selecting the proper size for your application. Sold in 12" (1 foot) increments.
Part
Number
I.D.
Inch

Perfo-O-Flex
Hose

Speed Flex
Hose

Super Stock
Hose

4E1748
3/8
-3 & -4
4E1749
1/2
-3,-4
-6
-4
4E1750
3/4
-6,-8
-8,-10
-6 & -8
4E1751
1
-10, & -12
-12
-10
4E1773
1-1/4
-14, & -16
-12
Reflective/Insulation Heat Cloth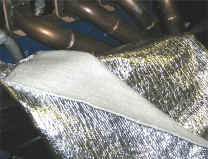 This aluminized, stiff weave fiberglass cloth, is still flexible enough for insulating body panels and shielding starters, air boxes, wires and anything else that excess heat will affect. Attach using RTV sealant of your choice.
Sold by the liner foot, approx 37" wide. Part# 7U1325
Protect-A-Boot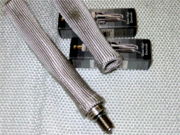 Spark Plug Wire, Boot Protection 6" L, Silver Knit insulation material, sold in pairs #2J2551
[ Auto-Fit ] [ Speed-Seal ] [ Swivel-Seal ] [ Super Stock ] [ Adapters ]