[ Products ] [ Services ] [ Hours&Location ] [ Contact Us ] [ Search ] [ Links ]
Behind the Wheel
Steering Wheels
One of the first things you notice when settling into a racing vehicle, is it's steering wheel. Because each vehicle-driver combination has their own unique requirements, these quality steering wheels come in an assortment of sizes and styles.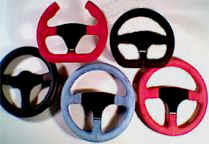 All require drilling to mount and are flat,
unless stated otherwise.
Note;
There is currently a supply issue with many of the steering wheels we have provided in the past. Our hopes are this will be resolved soon, so we've decided to keep this listing up, but call for availability.
We're sorry for any inconvenience.
Racetech,
A flat bottom (D) shaped steering wheel can enhance cockpit clearance.
Black Suede is standard for stock

255mm (10.0") flat bottom, part# 7T2828
also available in 305mm and 320mm
Round, light weight, anatomic shape
Available in black Suede
265mm (10.25") part # 7T0677-color/type
305mm (12.0") round part # 7T1842

Alpha
"D" black suede.
255mm (10.0") flat bottom, part # 7T2237
305mm (12.0") flat bottom, part # 7T2232
Round, black suede
270mm (10.6") round, part # 7T2497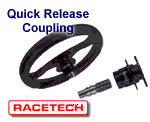 This involute spline, pull-ring design only allows mating in one position and has virtually no play.
An exceptionally light weight, quality product, machined to exact tolerances.
Standard 5/8" diameter shaft is welded into your steering shaft.
Attaches to wheel using a compact, 2" pcd, three hole pattern with 10/32 bolts supplied.
5/8" (three hole pattern) part# 7T1438
3/4" (three hole pattern) part# 7T0289
3/4" (no holes) part# 7T2827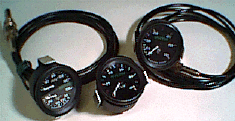 These 52mm (2") mechanical competition gauges from Racetech, have been the original equipment standard for years. Temperature is by capillary tube in 7' and 9' available lengths. The use of -3 braided line (Earl's speed-flex hose) is recommended for a pressure line. Both standard and BSP gauge ends are available from stock.
Combination gauges, 160 psi with 1200 C part# 7K1946 (7'), 7K1212 (9')
Combination Oil 100 psi with 1400 C part# 7K1947 (7'), 7K1948 (9')

Fuel Pressure 0-15 psi part# 7K2152
Pressure 0-100 psi part# 7K1970
also available in 0-160 psi

Water Temperature 30 - 1100 C part# 7K1464 (7'), 7K0556 (9')
Oil Temperature 40 - 1400 C part# 7K1847 (7')
We can also supply an adjustable pressure sending unit (30-60 lbs), 1/8 NPT. for a proper, EARLY, oil pressure warning. Sending unit part #5D1223.
Use with one of our LED (red or amber) warning signal. LED's
SPA Tachometers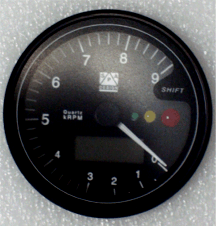 80 mm analogue tachometer with expanded range of digital readouts with integral multiple shift lights as standard. Available in standard black or classic white face. Suitable for 1 - 16 cylinders, 2 or 4 stroke Switch able backlight brightness control. Stepper motor driven needle for high accuracy and definition. Three stage shift light system Fits any ignition system
Available in, 0-9000, 0-12,000, 0-15,000 0-18,000 RPM range.
Mirrors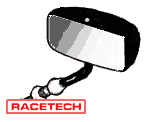 Racetech F1 mirrors are extremely light weight (86 gram), non handed, central mounting stem and an adjustable swivel mount. The convex lens (W 110mm X H 50mm) supplies a better field of vision for what is going on around you, than a flat lens twice the size. Black part# 7T0917

Center mounting, adjustable swivel mirror, with a convex lens (W 210mm X H 52mm) , from SPA. Available in black or white housing complete with mounting stem. Used on S-2000, open sports cars and similar applications. part# 7T2118. Black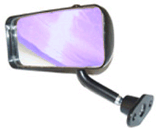 SPA mirrors have been OEM equipment of Van Diemen for many years, but were often supplied with a flat lens. These replacements have a slight convex lenses for better field of vision. Unlike the Racetech mirrors, these are handed. In Black
Lens size W 113mm H 52mm
RH part# 7T2689 LH part# 7T0183,

Carbon housing version of the Formula mirror above, convex lens. RH part# 7T2693, LH part# 7T2199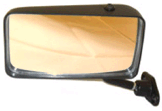 SPA convex mirrors, Larger version of above, for Touring and Production based race cars. Black
Lens size W 132mm, H 69mm
RH part# 7T2691, LH part# 7T2692