[ Products ] [ Services ] [ Hours&Location ] [ Contact Us ] [ Search ] [ Links ]

LED. indicators are available for a variety of jobs. The 2", solid-state, high intensity cluster to replace your existing rain or tail light. Comes with mounting hardware, a 72" power lead and weatherproof connector, for ease of removal during gear change or other maintenance. part #6J2091
Solid state, no conventional bulb filament to break or burn out
High intensity LED's have a normal operating life of thousands of hours.
The rain/tail light draws approximately 1/2 watt of power, meaning less battery drain than filament bulbs of 15-25 watts, yet substantially brighter and visible at longer distances.
new

Ultimate tail/brake light and wiring system. Two standard 2" diameter, two wire rain lights, wires and WeatherPack connector (as shown) for those applications that require a minimum of two rearward facing warning lights for both operational and brake applications. This system allows you to replace either LED if damaged, with one of our commonly available standard two wire LED. Instructions include how to assemble a WeatherPack wire connecter. part #6J2932

(not shown)
If you require a single combination running/brake light (sport racers), this 2", 3-wire unit, will supply higher intensity (brighter) brake over a running operation. part #6J1727
Single LED's
With their small size, a 5mm or 10mm LED can be used for a variety of applications, including mounting on steering wheels and switch panels. The 5mm colors are, red, orange, yellow, green, blue or white, while the more commonly used 10mm colors are red, orange, yellow or green.
For those hard to see locations, we now have a 3/4" LED for mounting at a distance but still visible.
Some of the most popular master switch styles seen in motorsports.

The "Hella" straight post style switch, removable key and design for use on vehicles with total loss systems, needing only to totally isolate the battery. Part #6J1052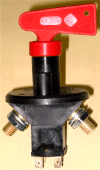 The FIA switch, common on vehicles that have an alternator or uses a magneto. Removable key. Supplied with a resistor, this switch allows the alternator to "un-load", when the switch is turned off while the engine is still running, thus protecting the alternator from internal damages associated with a break in the power supply. Rated 100 amps continuous.
Part #6J1051

The "disconnect-only" version of the FIA switch, with the posts angled. Removable key. Rated 100 amps continuous.
Part #6J2643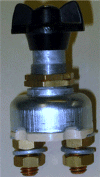 The Lucas style switch, common on many European built vintage cars, normally mounts with jam nuts (supplied) through a tab mounted to the chassis. It has the same simple function as the standard red-key switch. Part #6J0752

Toggle switch, SPST, screw connections with, red, yellow, blue or black "carbon look", aircraft type covers.


Carbon-look part #6J2378
Red part #6J0487
Yellow par #6J2427
Blue part #6J2426
Toggle switch, SPST, spade connections, waterproof cover

part #6J1659
Momentary On switch, push button, two post (set screw) switch,
thread shaft (dash panel) hole size 7/8" (22.2mm)

part #6J0072
Momentary On switch, push button, Lucas, spade (slide-on) switch,
thread shaft (dash panel) hole size 3/4" (19mm)

part #6J2743
Brake Pressure Switch The easy way to actuate brake lights.
Just replace one of your banjo bolts in a master cylinder (or another location using a banjo fitting).

Banjo bolt brake pressure switch 3/8"X24 thread. # 2U2719

Silicone battery terminal covers part #6J2420
Soft Mount / Vibration Mounts
Used with various electrical components
see our hardware page for rubber shock mounts Soft Mounts

Safety Decal part #9Z2933
as shown on white background
actual size of each decal
"OFF" Spark 3"height, 1-3/4"wide
"E" 3"h, 3-3/16"w
"TOW" 3"h, 3-1/2"w
Top