[ Products ] [ Services ] [ Hours&Location ] [ Contact Us ] [ Search ] [ Links ]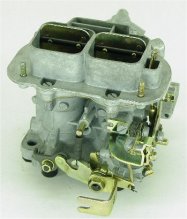 The Weber DGV series, 2-barrel, progressive down-draft carburetor, as used on both the Ford 1600cc Kent (Formula Ford) and 2000cc (Sports 2000 & Ford 2000), remains one of the most simplistic, yet tunable components on these and many other, small bore race vehicles.
Normal servicing may be required to keep the internals clean of foreign materials, both airborne and those delivered from the fuel system. Occasionally inspecting the float settings are required, normally due to the riggers of traveling by trailer to an event. Many of these units have been modified by engine builders, with small tubes running into the airstreams, thus care must be observed when performing any service or jet change function.
Adjustments normally carried out by an individual, would commonly be a jet change. The upper jets, just below the top cover (remove six screws), are know as Air Correctors (also, high speed bleeds). When those jets are removed the emulsion tubes below them are exposed (function = mix air and fuel). These have been known to get plugged with grass, tire rubber and grit, that somehow by-pass fuel and air filter assembly. In the bottom of the float bowl, is the Main Fuel jet. Both of these Jets, are measured in .05 mm increments (1.45mm, 1.55mm, etc.) and sold as such.
Some common service parts are as follows.
Gasket, Carb Top
(between float bowl and top cover) #4E1360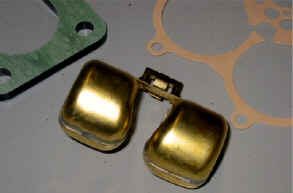 Gasket, Carb Base to Manifold, F/F, F/2000
#5E1196
Return spring, secondary #4E1722
Check Valve, accelerator pump #4E2658
Diaphragm, accelerator #4E1362
Float
Brass #4E1361
Plastic #4E0828
Air Corrector Jet
Main Fuel Jet
Air No.
Prefix 4E
mm
Fuel No.
Prefix 4E
mm
1171
1.40
1713
1.40
1712
1.45
1714
1.45
1472
1.50
1483
1.50
1473
1.55
1484
1.55
1474
1.60
1485
1.60
1475
1.65
1486
1.65
1476
1.70
1487
1.70
1477
1.75
1488
1.75
1478
1.80
1489
1.80
1479
1.85
1490
1.85
1480
1.90
1491
1.90
1481
1.95
1492
1.95
1482
2.00
1493
2.00
For these or other replacement items, contact our service/parts department.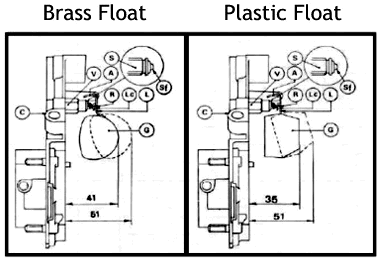 These are 32/36 DGV base float settings, as used on a 1.6Ltr Formula Ford or 2.0Ltr S-2000. Contact your engine provider for any further setting information.