[ Products ] [ Services ] [ Hours&Location ] [ Contact Us ] [ Search ] [ Links ]
Race Tools - Equipment (and stuff)
Dual function Pyrometer. IR and Tire.


Tire temperatures are related to track surface temperatures. Air temperatures are not track surface temperatures. Knowing the surface temperature your tires will be working with, can give you an edge for the opening race laps and more.
Always use the correct tool
Accurate knowledge is valuable
Accurate and fast response in either mode
1400o range on IR.
500o range with Tire probe
F or C switch-able readings
Includes metal carrying case


Great for taking brake, header, track surface or coolant pipe temperatures and then with the plug-in probe, tire temperature readings. All with one tool !
part #9X2963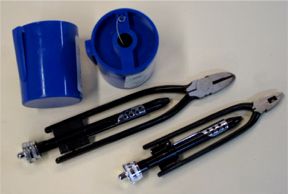 Safety Wire. Stainless steel annealed type 302, used to secure bolts or hardware subject to vibration. Available in 1 lb. dispenser can. MS20995.
.025" wire #9U1837
.032" wire #9U1069
Safety Wire Pliers. Automatic return pliers, 6"L and 10"L models, right hand twist.
6" length #9U1974
10" length #9U1070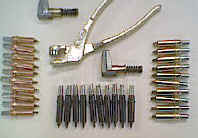 Cleco's For temporary fastening of panels before assembly (normally with rivets), the Cleco fastener is the method of choice. Available for hole sizes of, 3/32", 1/8", 5/32" and 3/16', plus a side clamping configuration. The more cleco's used to hold the part in place, the better your finished job will be (how do you think the Pro's do it).
Pliers shown, work for both styles.
| | |
| --- | --- |
| Cleco Pliers | #9Z1068 |
| 3/32" Cleco | #9Z1926 |
| 1/8" Cleco | #9Z1065 |
| 5/32" Cleco | #9Z1066 |
| 3/16" Cleco | #9Z1067 |
| 1" Side Cleco | #9Z1639 |

(not shown)
Handy Cleco Kit
50 assorted Cleco fasteners, (13) 3/32", (13) 1/8", (12) 5/32" and (12) 3/16" plus cushioned pliers in a convenient storage case. #9Z1934
(not shown) Heavy duty hand riveting tool, cast metal, with carrying case. Heads to pull, 3/32", 1/8", 5/32" and 3/16" rivets. Comes with blind rivet assortment. part #9Z1294.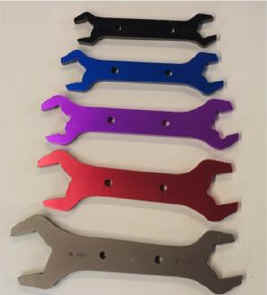 Earl's Aluminum hose wrench
Use these tools to minimize the marring of the anodized red/blue hose ends caused by steel wrenches.
The Earl's line wrenches are sold individually, order by fitting size.
Earl's wrench for fitting size;
| | | |
| --- | --- | --- |
| 5/8" & 11/16" | 6 nut - 4 socket | #9U0144 |
| 3/4" & 7/8" | 8 nut - 6 socket | #9U0184 |
| 7/8" & 1" | 10 nut - 8 socket | #9U0210 |
| 1-1/4" & 1-1/16" | 12 nut - 10 socket | #9U0365 |
| 1-3/16" & 1-1/2" | 16 nut - 12 socket | #9U0378 |

Metal Braided Hose Tool
This is the tool you need if you must assemble stainless braid covered Teflon hose in -3an or -4an size. If you ever have done this job without one, you know exactly what I am talking about. This single tool helps spread the stainless braided hose away from the Teflon hose, then assists pushing the "olive" in place.
One tool does both sizes.
our part #9U1973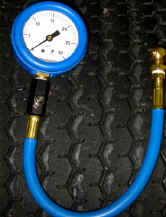 Tire Gauge 2.5" Gauge, long hose and bleed valve, 450 swivel head.
0-30psi. in 1/2 lb increments #9K2758
0-60psi, in 1 lb increments #9K2759

Screwdriver handle Dzus tool, is the proper tool for the job. Because it fits the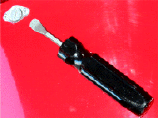 slotted curve of the dzus button, it won't slip like a screw driver..
#9U1661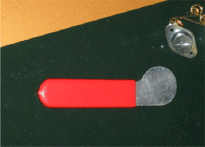 Pocket size Dzus tool. For when you have Dzus fastener in a tight spot.
#9U0997
Smart level inclinometer.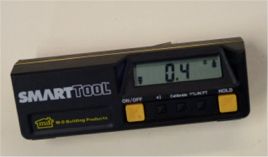 Best used to measure wing/chassis angles, to level slope of floor/set-up pad when doing alignment, tool length of 6.25"
Also a great tool for measuring tube angles when make chassis repairs.
Although it has been used as such, we do not recommend it for camber measurements. part #9U1500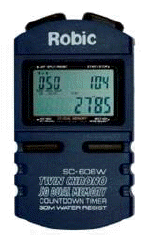 Advanced High Performance Timers
Robic SC-606W, a hand held timer that computes speeds and times Automatic lap split or dual split, 50 lap memory, fastest and average lap times and water resistant to 30 meters. On demand EL backlight. Break-away safety lanyard. Blue
one year warranty part #9U1078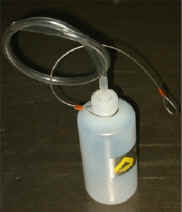 Brake fluid bleed bottle, The clear container you to monitor the brake/clutch fluid when changing/flushing the hydraulic system #9X0654.
(not shown)
Accutech economy, tire probe type pyrometer from Longacre. Low cost, just get the job done kind of tool. Your not racing if you aren't checking your tire temps ! part #9X2849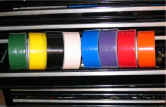 Racers Tape. Also known as 100 mph tape, this is one of the most popular "fasteners" (body work) on a race car today. Available in the following colors, Black, Blue, Green, Orange, Red, White and Yellow. Because of it's convenient 2" X 90' size, you don't have to buy a large roll of one color you rarely use.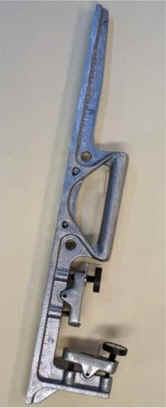 Dunlop CG-4 camber gauge, is the cast aluminum tool that's been in racers tool boxes around the world for over 40 years. It's durable design, insures constant measurements of a vehicles most critical dimensions.
Camber Gauge #9R1079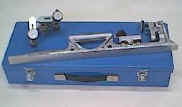 The complete caster/camber set includes the caster tool in the upper left, adapters to mount the caster unit and a steel carrying case. #9R1080
Simple to use, easy to calibrate, this Laser version of the Dunlop optical toe gauge, requires no cables to operate, has a conversion calculator from degrees to millimeters or inches. This precision product, designed and engineered for accuracy and durability, reads the combined toe angle on almost any vehicle, which makes it a must if you work on a variety of vehicles. PPL40 Laser Wheel Alignment Gauge.
#9R2130