Hold Curser Over Button For Contents
















[ Products ] [ Services ] [ Hours&Location ] [ Contact Us ] [ Search ] [ Links ]
Things in a tube, box or can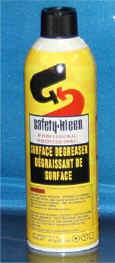 Safety-Kleen Surface Degreaser
Safe on most factory paints and clear coat finished. Pleasant citrus scent, quickly removes grease, bugs, tire marks. Great for track use between sessions. 15.5 oz aerosol can.** (smells good too)
Available individually or by the case (12)
Part #9H1010
Safety-Kleen Brake Cleaner
A 12 oz. Aerosol can from Safety-Kleen, a leader in environmental solutions. Non-chlorinated, low VOC formula. Fast drying
Available individually or by the case (12) **
Part #9H1168
** Not available in California
Hylomar. A non-hardening, non-curing, polyester-urethane sealant.
Use it with or without gasket applications, to provide an instant seal of gasoline, water or mixed coolant and even diesel fuel. Common use on head and intake gaskets, to give an immediate seal and allow easy gasket removal later.
This is not a RTV silicone, and is not to be used to fill large gaps (over .010"), but when properly applied, it will seal were others fail.
100 g tube part #9H1449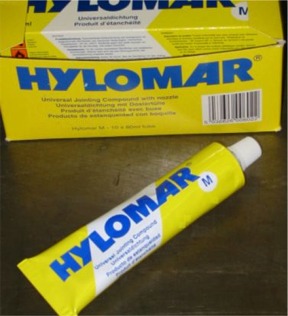 Wypall X80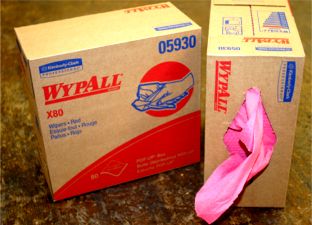 Extra strong and bulky, durable, absorbent ideal for track or shop use. Maintains strength in solvents, pound for pound, absorbs more oil and water than rental shop wipers.
80 wipers per box. 9.1" W, 16.8" L
part number #9H1047
Anti-Seize
When applied prior to assembly, this copper based anti-seize compound, allows easy removal of threaded fasteners, provides long-term protection for spark plug threads and makes rod-end bearing adjustments possible, even after long term assembly. Galling of alloy threaded holes is a particularly annoying experience that can be avoided with the use of Copaslip. Available in 57gm tube.
Part number #9H1681

Copaslip won't soften or harden under extreme operating
conditions, 2000 F (1100 C)
Prevents metal-to-metal contact under most conditions so
there is no danger of galling or metal pickup under
extreme pressures
Highly effective corrosion inhibitors provide permanent protection
against rusting
In an assembly process, Copaslip reduces nut driving torque
requirements compared to oil or grease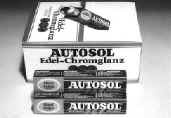 Autosol Metal Polish. This metal polish from Germany, is the best we've seen, for cleaning, removing rust and polishing chrome, aluminum, nickel, and brass. Packaged in a 75 ml tube, it's a must for keeping your vehicle looking presentable at all times. part #0U0737

(not shown)
Hydraulic Assembly Grease
Designed for use when assembling master cylinders, slave cylinders, prop valve, Hydraulic release bearings and calipers
Prevents scuffing of seals and makes assembly easier
Compatible with all racing brake fluids
Part #2E2414, 17.5ml tube container