[ Up ] [ Products ] [ Services ] [ Hours&Location ] [ Contact Us ] [ Search ] [ Links ]
Alloy Heat Exchangers
Light weight replacement motorsport radiators have become more affordable today, than when first introduced. The main heat exchanger cores are now produced in greater numbers, and the common use of aluminum in overall construction, has helped to bring about this change.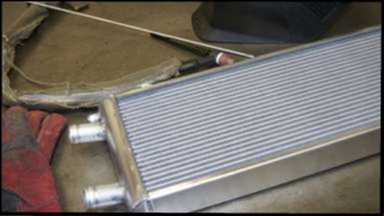 Now is the time to replace your old steel unit with a lighter weight and more efficient component. Send us a detailed drawing or your old heat exchanger for a cost quote.
Racing cooler, saving weight & better overall performance.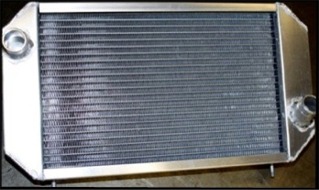 We can also manufacture this basic style with an oil cooler in the lower portion as seen with early 70's single seater applications
Coolant Catch, quart capacity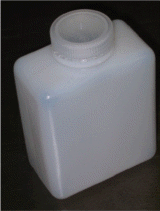 Rectangular 5" X 2.75", one (1) quart clear catch bottle. HPDE material.
7" tall, including wide mouth bottle cap.
Ideal for locations where round bottles just don't work.
Use for oil or coolant applications.
part# 9U1318