[ Home ] [ Products ] [ Services ] [ Hours&Location ] [ Contact Us ] [ Search ] [ Links ]
bearings, shift joints, etc.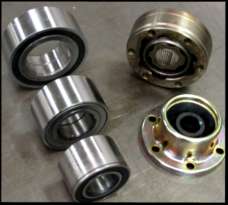 Double row, sealed wheels bearings, are the rule on race cars today. For Formula cars or Sport Racers, we have the following bearings (manufactures vary).

Listed by dimension (OD, ID, Width).
60mm X 30mm X 37mm #3B1284,
66mm X 35mm X 37mm #3B1951
64mm X 34mm X 37mm #3B1286,
72mm X 37mm X 37mm #3B0878
75mm X 42mm X 37mm #3B1285,
88mm X 49mm X 46mm #3B2394
90mm X 50mm X 34mm #3B0595

If these don't match your needs, contact us with your dimensions.
Lobro CV Joint (94 mm OD), standard on many Formula and Sport Racers through the early 90's. # 3R1230.
(not shown)
GKN Motorsports modified CV Joint, lightweight and easy motion. # 3R1232

Aero CV Boot for the 94mm CV joint, allows greater axle movement (see photo above)
# 3R1229
(not shown)
Outer Lobro CV joint with (22) spline shaft(24mm),
as used on Swift and other late 80's formulas. # 3R1638
Tripod joint, GKN, 22 spline Ralt RT40/41 # 3R0140
Tripod joint, GKN, 30 spline Van Dieman, Swift 008 # 3R0376

See our RedLine lubricant page for the proper CV Joint grease.
Due to the high heat/loads of drive line joints, do not use standard chassis grease
Belden Heavy Duty Class 2 Military Standard U-joint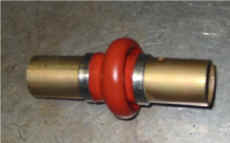 Part Number
OD
Dia.
Inch
OA
Length
Inch
Bore
Depth
Inch
Bore
Inch
Boot OD
Inch
MS20271B10
.620
2-3/4
3/4
.500
1-5/32
MS20271B12
.745
3-3/16
7/8
.625
1-7/16
MS20271B14
.870
3-5/8
1.0
.750
1-9/16
Belden military specification universal-joints are precisely designed and manufactured for a variety of applications. These include specifications where low deflection rates, high strength-to-weight ratios and long service life are essential.

For those applications where you need to weld or thread internally, or the bore on each end needs to be different, we have these un-drilled joints. They are a heavy-duty, cross pinned u-joint, and are tough enough for many jobs.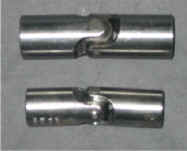 Part #3R2401, 3/4"(.750) OD, 2-5/8" long
Part #3R1153, 7/8"(.875) OD, 3.0" long