[ Products ] [ Services ] [ Hours&Location ] [ Contact Us ] [ Search ] [ Links ]
Helmet Accessories
Helmet Shield System
Bell Racing helmets come equipped with one of two shield systems: SRV-1 or SRV-2. In early 2006 the majority of Bell's helmets were converted to the SRV system. This new system has a slide mechanism that allows the driver to adjust the tension on a shield allowing for multiple opening positions. When properly adjusted and in the locked position, the SRV system helps reduce the possibility of the shield opening during an impact.
The helmets that feature the SRV-1 system are: RS-7,Dominator 2, GP2 Carbon, Star Infusion, GP2, GP.2K, GTX2, Sport EV, Vador.
The helmets that are still equipped with the SRV-2 system are: Vortex GT, BR-1, M4, K.1 Sport, Sport,.
When ordering extra shields for your helmet, it is important to specify the model, Snell year, or number off your existing shield, if known..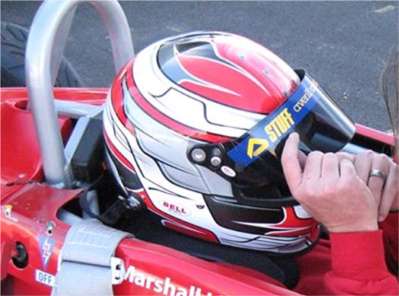 Replacement Shields are available in Clear, Light Smoke, Dark Smoke and other. 3mm thick (except GP.2 CMR).
Order by model/year or shield number from helmet / model page.
Bell Tear-Off, Ten (10) in a package,.5 mil thick. When used regularly they keep your shield healthy for a longer period of time and can be the best thing to maintaining your vision when behind someone with a leak.
Fits most current Bell Racing helmets including models #276, #281, part #0X0900
Bell Tear-Off, Twenty in a package, 2 mil, thin.
For Bell #287 series shields. part #0X2942
Bell Tear-Off, Ten in a package, .25mm, thick
For Bell SE-3 series shields, part #0X2957
For Bell #287 series shields part #0X2940

Bell Breath Deflector fits inside of your Bell helmet in such a way, that it not only directs your breath away from the shield, but also from glasses if you wear them. One model fits all. part #0X0558
Bell Cheek Pad insert kit, available in 5mm, 10mm, 15mm and 20mm
Bell Hyper Shield anti-fog Insert, order by shield number, #276, #281 or #287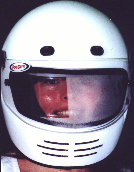 Bell Racing USA Hyper Shield
This revolutionary anti-fogging face-shield insert ensures ultimate performance from your protective gear. Optically correct. And unlike other anti-fog products, it will not wear out, wipe off or smear.
The one-piece attachment is design for specific Bell Helmet shield series numbers, #276, #281 and #287. A special perimeter adhesive secures the thin anti-fog liner to the inside.
Bell Helmet Pivot Repair Kit, SRV-1, part# 0X1708
Bell Helmet Pivot Repair Kit, SRV-2, part# 0X2766
Bell Helmet Pivot Repair Kit. (old style) replacement parts, fits all model with "ratchet" style visor adjustment.
part# 0X0899
Bell Helmet Pivot Repair Kit, SRV style up to Snell 2005
part# 0X0858
Bell Helmet Pivot Update Kit, update old "ratchet" style to Snell 2005 SRV style adjustment.
part# 0X2718

Protect your helmet and shield from damage when you travel.
Felt-lined and vented.
Bell Helmet Bag. part# 0X0371

Extra Large Size, Fits both your Bell Helmet and a HANS device, two side pockets, 2 storage pockets, back mesh pocket.
Part # 0X2635