[ Products ] [ Services ] [ Hours&Location ] [ Contact Us ] [ Search ] [ Links ]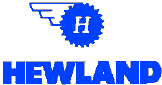 Hewland Gearbox Parts
and Service
Hewland components & reasonably priced service.
From our first introduction to a Hewland transaxle in 1971 through present day, these bespoke racing components continue to be the backbone of the limited-production race car industry. Their success stems from the genius of their designs, which provided a simplistic yet durable power transmission system, requiring minimal attention and quick ratio alterations. All the while, providing the competitor with one of the more reliable assemblies on their vehicle.
When compared to other components that make up a race car, detailed servicing of the Hewland gearbox is a rather infrequent, yet very important procedure. With the increasing loads of the modern racing vehicle placing a greater emphasis on the individual internal workings, their proper adjustments and the right parts are critical.
The Hewland name is synonymous with a foremost designed and engineered package, based on the sum total of it's parts. Servicing need not be expensive, nor should it be overlooked because it "still works". Keep in mind that many aftermarket parts are little better then a visual copy of the original design, without the engineering support.
Although, there are many components that can be exchanged with a minimal amount of effort and normal support tools, these transaxles are best serviced by our professionals, with years of experience and the proper tools.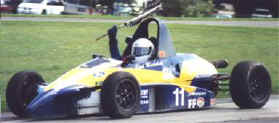 We have proudly serviced many of the following transaxles for customers since our early days in racing. Hewland Mk6-8/9, Reynard cased Mk9, LD-200, FT200 and other Hewland-style copies. Blue-printing, re-casing, Carrier, CWP setups and repairing damage from inferior aftermarket gears or components.
For internal Hewland parts, gears, clutch rings and other gearbox related help, contact our sales staff and keep your Original Hewland gearbox, original.
Free Download
MK Series Manual
and parts identifier (pdf)
LD200 Series Manual
and parts identifier (pdf)
Custom Gear Chart
4-speed only
7/31 - 10/31 CWP (exl)
Current Hewland Ratio List
Model
Mk8/9
88-Reynard
LD-200 4sp
FT200
Type Oil
SAE 80
SAE 80
SAE 80
SAE 80 or 90
Oil Capacity
2 pints
2 quarts !!
1 liter *
1.75 liters #
Pinion Nut Torque
115 lbs/ft
115 lbs/ft
115 lbs/ft
115 lbs/ft
Layshaft Nut Torque
75 lbs/ft
75 lbs/ft
115 lbs/ft
90 lbs/ft
Carrier and other Nut Torques
8mm 12 lbs/ft
1/4" 5 lbs/ft
8mm 12 lbs/ft
1/4" 5 lbs/ft
8mm 12 lbs/ft
6mm 5 lbs/ft
all 5/16"
16 lbs/ft
!! one quart on gear change * 1/4" (6.3MM) below right hand plug # transmission without remote cooler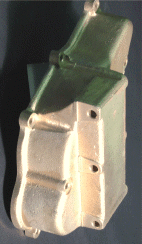 Cast Magnesium rear cover with integral reinforced wing mounts, for the Hewland LD200 gearbox (4 speed only). Made to do the job right, without modifications! weight 715grams
Part #8N2490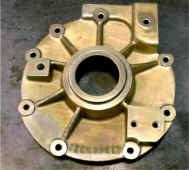 Gearbox left hand side cover, for 1987 and newer Reynard cars utilizing the Reynard gearbox casting and Hewland Mk series gears, such as Formula Ford and F/ Ford 2000. Web added for extra strength, Aluminum. Techspeed manufactured
Part #8N0696