Electrical-3
If you race a single seater (formula) or sport racer, we offer a quality kit to properly perform a new or replacement wiring job yourself (no junk). Along with the helpful instructions included, crimp/shrink connectors and various wire gauges (Min 10' length each) and colors for different applications, in lengths for these type applications, with a liberal amount of professional shrink tube.

DIY kit


Your finished product will have that professionally made look and provide many years of confident racing.
part #6J1094
Ratcheting Crimp Tool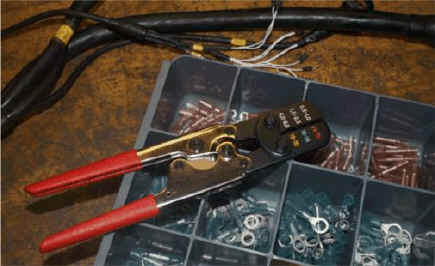 Crimp electrical connectors from 10 through 22 Ga without cutting through the insulation
part #9U2604
Wire sizes and capacity
20Ga - 11 AMPS Continuous
18Ga - 16 AMPS Continuous
16Ga - 22 AMPS Continuous
14Ga - 32 AMPS Continuous
(not shown)
Kit
Premium electrical connect assortment, 24 different connectors, 4 different gauges,143 pieces total, plastic bin carrying case. part #6J2248
Order this kit with ratcheting crimp tool described above and save !
part #6J1579
Wire by the foot
Extra thin wall, automotive primary wire
(for racing use only)
This wire is recommended where high temperature resistance and small overall diameter are necessary.
Recommended temperature range is -40F to +260F
Recommended voltage, 50V Maximum
Meets requirements of SAE J-1560, Chrysler (MS-8288), Ford (M1L-123A) specifications.
Made in USA
Stock Wire Colors
18Ga. Red, Black, White, Green
16Ga. Red, Black, White, Orange
14Ga. Red, Black, White, Green

Terminal Information
All of the following terminals are crimp with adhesive-lined, heat-shrink insulation.

Wire gauge sizes/colors
(R) Red 22-18Ga
(B) Blue 16-14Ga
(Y) Yellow 12-10Ga


Typical ring terminal applications
#6 terminal - Mil Spec switch R,B
#8 terminal - Bosch Coil R,B
#10 terminal - 3/16" posts R,B,Y
1/4" terminal - Chassis/Battery B,Y
5/16" terminal - Starter Solenoid B,Y
3/8" terminal - Master Switch B,Y

1/4" Female Quick Disconnect
R,B,Y

1/4" Male Quick Disconnect
R,B,Y

Butt Connector
R,B,Y, 8Ga

Step Down Connector

22-18Ga to 16-14Ga
16-14Ga to 12-10Ga
12-10Ga to 8Ga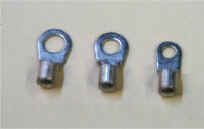 Battery terminals, DIY #6 cable, for 5/16", 1/4" and 3/8" lugs
Common sizes/applications
1/4" - chassis ground, battery terminals part #6J2682
5/16" - starter solenoid terminals part #6J1629
3/8" - master switch terminals part #6J2140
Main power (battery) cables.

Custom made.
Now available in a variety of wire gauges and cable ends. These cables are assembled with heavy-duty, power-crimped ends, heat-shrunk for protection, with clocking* if needed. Cables, Red or Black, 6 Ga. normal
4 or 1/0 gauge upon request..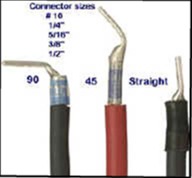 * Clocking refers to the practice of rotating one connector in relation to the other, during assembly, to preclude twisting the cable. To determine the clocking, place the cable with one lug blade down, flat on the bench, and note the orientation of the other lug, in a clockwise direction. In the case where the lugs are of a different size, specify which lug you set as the reference.

Silicone terminal (battery) covers, 6Ga part #6J2420

Formula C, Zetec Engine loom. part #6J0926