Hold Curser Over Button For Contents
















[ Products ] [ Services ] [ Hours&Location ] [ Contact Us ] [ Search ] [ Links ]
Batteries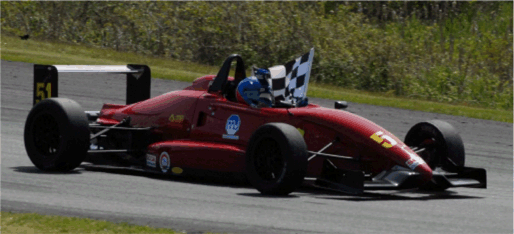 Do not be confused with batteries of similar dimensions. Racing batteries are designed to handle vibration, G-force loads and high load discharge, unlike those better suited for a garden tractor!
High Performance Racing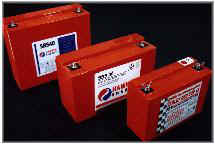 These 12 volt batteries offer an excellent power to weight ratio plus the added advantage of a lead plate design that will not leak electrolyte, even if the outer case is damaged. Battery model choice is normally accomplished by determining your vehicles Amp Hour (Ah) draw. These batteries will work in the upright or horizontal positions.
If you have a total loss electrical system, then you must consider all pumps, electric motors, ignition and lighting requirements plus the length of time these items must operate. For those with a recharging system, if this system fails, anticipate the length of running time until your next stop and the total Ah required.
Vintage racers refer to this type/size battery, as a Varley, due to their size and output. The Model 15 size/load battery, has been used on Van Dieman formula cars in the US, since 1990. The Model 30 is a popular replacement for many rallye, vintage sports racers and F5000 or FB.
Model
Name
Part
Number
Capacity
Ah
Weight
Lbs.
Dimensions
Inches
*Current
# 40
6J0450
35
27.5
9.8L 3.8W 8.H
1100 Amps
# 30
6J1676
26
20.
9.8L 3.8W 6.H
850 Amps
# 15
6J0253
14
11.
7.8L 3.W 5.4H
550 Amps
# 20
6J1604
13
10.8
6.9L 3.3W 5.1H
400 Amps
*Cranking Current 20oC for 10 secs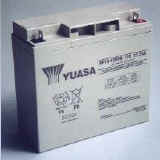 This12 volt, sealed lead acid, maintenance free battery, has been the heart of many formula cars electrical source for years. It has a long standing reputation of dependability amongst maintenance free and position free batteries. If your vehicle has a battery with the following dimensions or capacity needs, this is an excellent choice.
* Genesis series battery may be shipped instead, same service/size
Model
Number
Part
Number
Nominal (Ah)
Capacity
Weight
Lbs
Dimensions
Inches
NPG18-12
6J1703
17.2
13.7
7.1L 3.W 6.5H
Automatic Battery Charger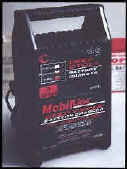 The most common failure of racing batteries used in a total loss system, can be attributed improper charging or the prolonged state of discharge, after use.
Most chargers will continue to "trickle", long after the battery has been significantly charged and this action can cause the internal structure to over-heat and premature failure. When used on larger automotive size batteries, this characteristic is rarely seen because the larger mass (heavier) absorbs this input.
This fully automatic 10 amp battery charger has 3 LED indicators and continuously monitors the state of charge. A red indicator confirms that your power supply is active. As the battery reaches full charge, the yellow and green indicator lights will flash alternately. This automatic cycling of the charger prevents overcharging as the battery reaches its full capacity. With the indicator green, the charger shuts off until the power has drained to the point of which the yellow indicator appears and the power returns. As with any electrical device, it is not recommended to leave it on continuously. part #6J0914
Check with us for
wiring, switches, LED and more